Triton-Electronic Systems factory has moved to the new address
We are glad to inform you that our factory has moved to the new address.
Our new factory address is: Bajova str. 33, 620133 Ekaterinburg, Russian Federation
---
Last few years was very successful for Triton Electronic Systems Ltd. (Treaton TM) due to outstanding sales results and expansion of the distribution network, so we invested into the new factory. By the beginning of this year we have built and equipped our new manufacturing site which is located in the Ekaterinburg city center.

It is completely new production facility, 9 floors, 8000 sq.m., equipped with the most modern equipment to ensure the highest quality of our products and to enlarge our production facilities. Our challenge is to satisfy needs of our partners faster as well as to provide them our new products and solutions in 2023.
---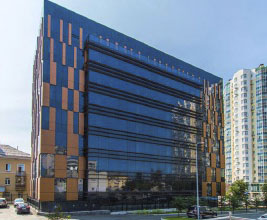 We have successfully passed the audit for compliance to ISO 13485 standard, please find in the attachment to this letter the updated QMS Certificate for our new factory site/manufacturing place.
You can reach our employees as usual at the e-mail addresses and telephone numbers you have been using. Our legal address also remains unchanged:

Shevchenko str. 9, premise 217, 620027 Ekaterinburg, Russian Federation

We keep doing our best to satisfy your needs and improve patient care.
---
You are very welcome to visit new Treaton House!
Have some questions? Write us and we answer you
Partner Registration is available for our Distributors and allow you to download our latest Technical Data Sheets, User Manuals, Service Manuals, Certificates and Marketing Materials.
Registration is an easy process. Please click the 'Register' button to begin, fill in the form, and you will be contacted by our International Sales Team within a couple of working days about your registration, User ID and password.
If you are having problems filling out this form, send us an email: info@treat-on.com for assistance.